If you're feeling a little hairy in a few places, the best waxing salons in Winnipeg can have you smooth and hair-free in no time.
Today, we're looking at a few reputable waxing salons that have experience removing body hair from various body parts.
In the section that follows, we'll compare and contrast a few of their waxing rates as well.
What is the price of waxing in Winnipeg?
Most waxing salons offer hair removal services for the upper torso, face, legs, and bikini area.
Although the prices are affordable, if you have more body hair you might want to have waxing done on more areas of your body.
Some salons can also use additional tools, such as threading, sugaring, tweezers, and electrolysis, to keep specific body parts smoother for a longer period of time. Naturally, the cost of the hair removal procedure may increase as a result.
As you can see in the table below, the majority of the Winnipeg waxing salons we're reviewing today have service rates that are reasonably comparable to one another.
WAXING SALON
ESTIMATED COST
Nova Wax Bar
Eyebrows $16
Upper lip $10
Half arms $25
Underarms $15
Brazilian $49
Lower legs $30
Precision Styling
Eyebrows $18
Upper lip $16
Half arms $25
Underarms $17
Brazilian $52
Lower legs $28
tBeauty Lounge
Eyebrows $15
Upper lip $6
Half arms $28
Underarms $15
Brazilian $50
Lower legs $35
H2T-Esthetics
Eyebrows $12
Upper lip $10
Half arms $25
Underarms $12
Brazilian $42 – $54
Lower legs $27
Tropix Gal Wax Studio
Bikini $33.90
Brazilian $62.15
Underarms $25.99
Full Arm $50.85
Half Arm $28.45
Full Leg $62.15
Half Leg $33.50
Please be aware that these rates do not yet include HST or any other taxes or fees. It's best to get in touch with the salon first for an assessment.
Best Waxing Salons in Winnipeg
Ready for a texture as smooth as butter? Let's examine the top waxing salons in Winnipeg in more detail to see how they can assist you in achieving hairlessness.
Urban Calm – Sugaring and Esthetics Urban Calm Sugaring and Esthetics is a business that offers a wide range of services, such as body sugaring and services for the skin. The company has been in business for more than 30 years, so their estheticians provide services that are both professional and honest. Additionally, the company uses high-quality local products in their services. Urban Calm Sugaring and Esthetics also strives to support local businesses and products. As a community-based business, they hope to provide an enjoyable experience for their customers.
Comfortable, welcoming atmosphere

Experienced staff who are passionate about their work

Quality products and services

Reasonable prices
Parking can be difficult to find
Customer Reviews
Let's take a look at what their clients have to say:
"Sheila is amazing! I booked an appointment online which was super easy & convenient. I requested her due to the great reviews & I was not disappointed. Sheila has a way of instantly making you feel comfortable. She is easy to talk to & so quick! I'll definitely be booking with her again." – Jade Heppner
"Sheila was absolutely amazing! She is very punctual and takes pride in her work as she handles her services very professionally. The first time I went to go see her, she kept me calm and collected as I'd never had such services done before. It's always a pleasure to come see her as she provides such a welcoming atmosphere! Definitely remaining a regular!! :)" – Nicole B. Mueller
Sweet Secrets Body Sugaring & More
Sweet Secrets is a company that provides sugaring services. They have two locations in Winnipeg, one in Polo Park and one in the Exchange District. Both locations are clean and bright and offer a relaxing atmosphere where clients can feel at ease. Sweet Secrets offers a variety of services, including sugaring, tanning, and waxing.
The staff is friendly and knowledgeable

They use quality products that are gentle on the skin

The results last longer than other hair removal methods
The prices are a bit high
Customer Reviews
Let's take a look at what their clients have to say:
"I recently went and treated myself to some pampering over a couple of days and have to say it was the most amazing experience I have ever had. Nelinha gave me an amazing pedicure and an amazing job sugaring me and Bianca tinted my brows and lashes plus did my very first facial ever. And I have to say these ladies are amazing. For new services, at the salon, you would think it's been there forever for how talented these women are! And the skincare line that was brought in called Eminence is out of this world! 100% organic and my skin has never been so soft and smooth! The products used in the room are also provided to purchase for continued use at home. They provided me with the knowledge of what I should be using for my skin type and helped me get exactly what I need. I can't wait to switch all my skincare products to Eminence because just a couple of days of use at home and I am truly stunned by the results. I highly recommend to everyone to go see these ladies and treat yourself to being pampered because I for sure will be a regular client with these ladies from now on!" – Ashlee
"I was trying to find sugaring places in my area but they were all booked up, then I came across Sweet Secrets and I couldn't have been happier. My practitioner Chandra was fantastic! Easily the most personable practitioner I've had (this certainly helps considering the service haha), she made sure everything was clear and she did it all so quickly! I can easily say I'll be coming here again, thank you!" – Amethyst Gamey-Wiebe
Nude Sugar Bar
Nude Sugar Bar is a hair removal salon that specializes in all-natural sugar waxing. They work hard to make sure that all of their clients, no matter their age, gender, or body shape, don't feel judged. Nude Sugar Bar has been in business for seven years and has remained popular due to their high-quality services and their commitment to customer satisfaction.
Affordable prices

Convenient location

Professional and experienced staff
Could take multiple sessions to get all the hair removed
Customer Reviews
Let's take a look at what their clients have to say:
"Nude Sugar Bar is amazing! The atmosphere is welcoming, clean, fun and so much more. The ladies are always friendly. I've been seeing Rachel and she is so easy to talk with, she really makes sure you are comfortable. I'm sure everyone who works there is just as amazing as Rachel. I highly recommend Nude Sugar Bar." – Nicole P
"Super sweet and welcoming staff! they only perform sugaring but you can also request plucking in some areas and it's a quick process. cj was really cool and fun to interact with, and always asked to make sure I wasn't in pain during the process. think this will be my new place to go to :)" – p m
fem body sugaring
Owner Kristen has been providing hair removal services since 2008 and has developed a real passion for the work she does. She believes that body sugaring should be more than just hair removal; it should be an experience that connects and builds trust with clients. Her salon is a favorite among Winnipeg locals for its focus on providing a high-quality, personalized experience.
Affordable

Flexible appointment times

Convenient location

5-Star Google Review⭐⭐⭐⭐⭐
Customer Reviews
Let's take a look at what their clients have to say:
"The environment is very beautiful and clean. The team at Fem always makes me feel welcome. Kristen is so kind and easy to talk to. She's also very efficient and fast. I have never felt uncomfortable here. I always recommend fem to my friends and clients!" – Arielle Melody
"This is the number one body sugaring place in the city. I have been going to Kristen for as long as I can remember. She is so kind and patient, especially when it's your first time. She is very welcoming and so are the rest of the staff. I would HIGHLY recommend this shop for all your body sugaring needs." – Melanie Turski
Silk-E-Fyne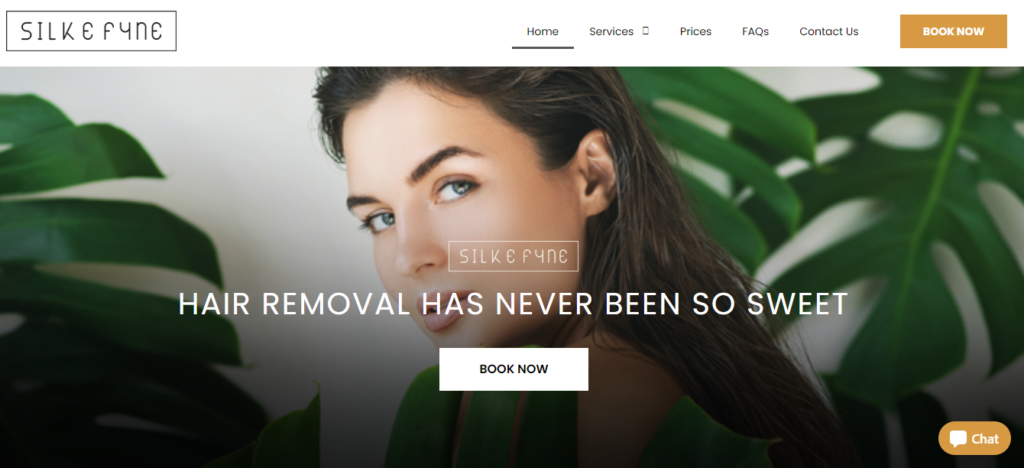 Sugaring is a natural, safe, and gentle way to remove hair. It is an ancient Egyptian method that uses a paste of sugar, lemon, and water. Sugaring gets rid of hair in the direction it grows, which helps it get thinner and lighter. This leaves the skin silky smooth.
Uses all-natural ingredients

Affordable

Leaves skin feeling soft and smooth

Conveniently located in Winnipeg
Cannot be used on delicate areas such as the bikini line or underarms
Customer Reviews
Let's take a look at what their clients have to say:
"Second time sugaring, the first was so painful I almost lost consciousness, this was my last try and Wow! Amazing and the nicest most entertaining experience, I had to write a review which I never do!" – Michelle Bulloch
"Recently had the pleasure of working with Rachelle in the art of scalp micropigmentation (SMP) and I have to say her attention to detail, patience and friendly personality are a perfect fit for this art. Rachelle created an entire scalp of perfectly applied SMP impressions, leaving the client amazed with his results so far. I have no doubt that Rachelle is going to become very successful and sought after in this art. Keep up the good work!" – Rob James SMP
FAQs About Waxing Salons in Winnipeg
What type of wax is used at the salon?
The type of wax used at a salon will vary depending on the preferences of the esthetician and what they are comfortable using. However, most likely, a variety of waxes will be available, such as soft wax, hard wax, or strip wax.
Is the wax heated prior to application?
Generally, no. The exception would be if the esthetician is using hard wax and needs it to be melted in order to apply it. However, most soft waxes do not require heating.
Does the wax need to be cooled before removal?
No, the wax does not have to be cooled before removal. In fact, sometimes it's better if it's still warm so that it adheres better to the hair.
How long does it take for the wax to set?
It depends on what type of wax is being used as well as other factors such as climate and humidity levels. Generally speaking, however, most forms of wax will take between 5 and 30 minutes to set properly.
---
The top waxing salons in Winnipeg can keep your skin smooth and hair-free without breaking the bank.
Do you think we ought to have included a different respectable waxing shop? Send us your ideas, and we'll look them over as soon as we can.