Do you suffer from any medical conditions or food allergies? Want to become more fit? At that point, a professional's opinion should be sought from Winnipeg's top dietitian.
These experts in nutrition and food can pinpoint the elements that make eating stressful or unpleasant. They can assist you in organizing nutrient-dense meals around any chronic illnesses or conditions you might have so that you can start eating healthier.
How Much Do Dietitian Services Cost in Winnipeg?
The price of a dietitian visit will depend on a number of factors. The most important one is whether or not you have health insurance of some kind.
Dietitian and nutritionist services are frequently covered by insurance plans, which can reduce consultation fees to an average of $30. If you don't have insurance, it could end up costing $125 or even more, depending on the dietitian you choose to consult.
Any illness or condition that might be the cause of a particular food allergy or intolerance must also be taken into account. You could add at least another $100 to that since your dietitian's fees will include the cost of a meal plan that takes your condition into account once you receive a diagnosis.
You can add up the unique elements and supplements of a recommended diet in addition to all the counseling, follow-up, and meal planning from your dietitian. Here is a table with the basic services and their estimated costs if you're only interested in learning about them.
| | |
| --- | --- |
| DIETITIAN SERVICES | ESTIMATED RATES |
| Nutrition counseling | 1-hour session $125 – $130 (without tax) |
| Nutrition counseling with a meal plan | 1.5-hour session $250 (without tax) |
| Continued support (for eating disorders, food intolerances, stress eating, etc.) | 1 hour $125 – $150 (without tax) |
| Nutritional assessment for family | 1.5-hour session $180 |
| Nutritional follow-up (individuals) | 30 minutes $60 |
As previously stated, taxes have not yet been included in the pricing scheme. You can avoid being caught off guard by asking your dietitian for an estimated billing amount.
Best Dietician Clinics in Winnipeg
Find Winnipeg's top dietitian clinics when you're ready to switch to a healthier eating regimen.
A Little Nutrition A Little Nutrition is a team of registered dietitians and mental health therapists that specialize in helping clients with their health goals. The team recognizes that when working on nutrition goals, many emotional underpinnings are uncovered that can impact a client's ability to achieve their goals. That is why the team has brought on a mental health team to help with relationship issues, grief and loss, stress, anxiety, depression, life transitions, eating disorders, and trauma. When combined with working with a therapist and dietitian, clients have the opportunity to understand "why we eat the way we do," heal from the past, gain new coping skills, and gain control over their eating. The team members at A Little Nutrition are committed to helping clients achieve their health goals and are passionate about providing holistic care.
Provides one-on-one counseling and meal planning

Counseling services are available in person or online

5-Star Google Review⭐⭐⭐⭐⭐
Customer Reviews
Let's take a look at what their clients have to say:
"Nita is extremely easy to talk to mother of 2 who genuinely cares for the well-being both of the kids' and of the parents' dietary needs. She is very thorough and is considerate of both time and money when designing a tailored plan for you. She has helped both me and my husband feel confident about feeding our kids. We really appreciate her. Thanks, Nita!" – Jamie Wheaton Donaldson
"Professional, personal, educated, and individualized care. The staff at A Little Nutrition is amazing! I've worked with them for a variety of issues and concerns over the years and I am very grateful for the service and guidance they provide myself and my family." – Jacqui Giesbrecht
Tenille Sonnichsen, Registered Dietitian
Tenille Sonnichsen is a registered dietitian with experience in many different areas of nutrition. She offers personal consultations to help clients identify what their body needs and how to make healthy changes that fit into their lifestyle. Tenille has specializations in cardiovascular health, sports nutrition, weight management, CrossFit nutrition, diabetes, and meal planning. She also provides support to her clients every step of the way to ensure they are able to meet their health goals.
Tenille is a registered dietitian, which gives her expert knowledge of healthy eating

Sonnichsen offers nutritional counseling services, so she can help you personalize your diet and reach your health goals

Affordable Price

5-Star Google Review⭐⭐⭐⭐⭐
Customer Reviews
Let's take a look at what their clients have to say:
"I enjoyed our weekly meetings and she was always a delight to talk to. I brought issues to her and she proactively sought out solutions. Working with Tenille is a win-win experience I definitely recommend Tenille!" – Christina Courcelles
"Had a great consultation with Tenille. She took the time to review my documents beforehand, addressed my concerns, and managed to answer most of my questions before I even had to ask!! Thorough, very knowledgeable, and reassuring!! Will certainly be forwarding her contact info to anyone in need of her services!!" – Dale Schenk
Winnipeg Nutrition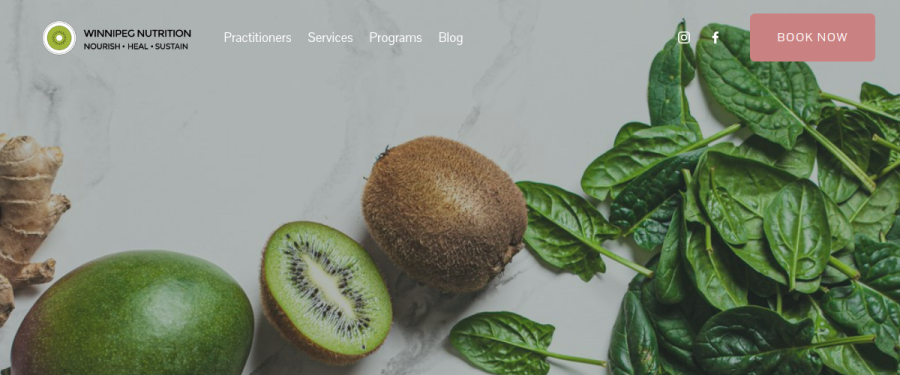 If you're looking for a Winnipeg nutrition clinic that takes a holistic and functional approach to healing, Winnipeg Nutrition is the perfect place for you. Their team of qualified and experienced professionals is dedicated to finding the root cause of your health concerns and helping you to overcome them through natural methods. Whether you're struggling with a specific health issue or just don't feel your best, Winnipeg Nutrition can help. Contact them today to book a consultation and start on the road to better health!
Winnipeg Nutrition

Huge variety of products

Affordable prices
Customer Reviews
Let's take a look at what their clients have to say:
"After 2.5 years of infertility, Sara was the first to specifically look at all my hormones and offer me a natural approach to balance them. Not only did I have more energy right and better sleep right away, my baby boy just turned 6 months old today! Thank you!!" – Mia Toews
"Sara is an excellent nutritionist. I send many patients to her because I know they receive outstanding care." – Kristen Mitteness
Infinity Nutrition & Health Coaching
Infinity Nutrition and Health Coaching is a company that seeks to empower their clients through holistic coaching in order to improve their health in a sustainable way. The company hires health coaches who have a lot of experience and have been carefully chosen and trained to meet the needs of each client. These coaches are passionate and motivated people who can relate to the challenges and barriers that come with trying to live a healthy lifestyle, and they have the proper tools and solutions to help their clients overcome these obstacles. Every interaction with Infinity Nutrition and Health Coaching is great, making it a great choice for anyone who wants to improve their health in a long-term way.
qualified staff

affordable rates

results-oriented approach

5-Star Google Review⭐⭐⭐⭐⭐
Customer Reviews
Let's take a look at what their clients have to say:
"Strong women inspire me. Shauna's knowledge and passion for her job come through in her coaching and I have made so many positive changes in my life since training with her. Her meal prep ideas, nutritional information, and workouts have taught me so much and I know it will be a lifestyle that I can continue in the future. I am in the best shape of my life and am beyond grateful to her for the incredible results. She is the best!" – Char D
"Infinity Health Coaching has been great. I signed up for 3 months and lost 11 lbs. and 10 inches. My coach Shauna was very encouraging with lots of great tips and realistic advice to reach my goals. The exercise program was tailored to my needs with the ability to change things up as needed. Highly recommend Infinity Nutrition and Health Coaching – Jodi : ) Aug.2022" – Jodi Hyman
South Sherbrook Therapy
South Sherbrook Therapy is a Winnipeg-based physiotherapy clinic with five dedicated staff members. They offer specialized care for any pain, injury, or discomfort, using cutting-edge technology and practices that are based on research.
Patients have had a lot of success with the treatments at South Sherbrook Therapy, which focuses on using the latest technology and doing things that have been shown to work. Their team of highly experienced physiotherapists uses sophisticated diagnostic methods, like movement screenings and gait analysis, to determine which services will be most beneficial for each individual patient. This careful evaluation leads to effective treatment plans that relieve pain, help the body heal, and keep injuries from happening again.
5-Star Google Review⭐⭐⭐⭐⭐

Friendly and knowledgeable staff

A wide range of services offered

Affordable Rates
Customer Reviews
Let's take a look at what their clients have to say:
"Very relaxed and comfortable atmosphere. Raymond Cao helped me strengthen my damaged rotator cuff muscles back to normal over the course of several visits. He was personable and engaging. Highly recommend. If I'm injured in the future (God forbid), I'll 100% go and see Raymond again." – Bart de Bekker
"Before i paid a visit to South Sherbrook Therapy Center, I had been suffering from acute lower back pain, leg pain, and acute stiffness. I had an appointment with Sanchit Garg, who worked an awesome job on me, releasing up the tensed muscles in just 1 appointment and I am already feeling good as new!! Very professional and friendly staff providing stellar job! Kudos to the team!! DEFINITELY RECOMMENDED!!" – Jasmeen Kaur Sidhu
FAQs About Dietitian Clinics in Winnipeg
How do I make an appointment with a dietitian?
To make an appointment with a dietitian, you can call the clinic directly or go through your insurance company. Some clinics also allow you to book appointments online.
What types of services do dietitians offer?
Dietitians offer a variety of services, such as helping people lose weight, taking care of diabetes, and planning meals. They can also help you develop an eating plan that is tailored to your individual needs and preferences. Dietitians often work with other healthcare workers, like doctors and nurses, to give their patients the best care possible.
Do dietitians offer services for children?
Many dietitians offer services for children and adolescents. In some cases, however, pediatric nutritionists—who have additional training in caring for children—may be better suited to meet the needs of younger patients. It is important to discuss your child's dietary needs with the dietitian before making an appointment.
What insurance plans cover consultations with dietitians?
Dietitian clinics in Winnipeg Canada are often covered by insurance plans. The amount of coverage that you receive may vary depending on the clinic that you choose and the specific services that you require. Make sure to check with your insurance provider to see if dietitian visits are a covered service.

Many people find that working with a dietitian is a great way to improve their health. Dietitians can provide personalized advice and support, as well as help you create a healthy eating plan that fits your lifestyle. If you are looking for help improving your diet or managing a medical condition, consult with your doctor to see if seeing a dietitian is right for you.
---
I hope you'll be on the path to healthier eating habits after reading about the best dietitian clinics in Winnipeg.
If there is a dietitian service you would like us to cover, please send us a message.