You're in luck if you require professional advice on how to manage your finances. We'll examine a few of Winnipeg's top financial advisory firms today.
There is a company on this list for you, whether you need full-service in-person financial planning or one from a Robo advisor. We will weigh the benefits and drawbacks of each advisor to determine which one is the best fit for your financial needs.
Are the services of a financial advisor expensive?
Since the majority of financial advisors charge a percentage of your balance as their fee, this will typically depend on the amount of money they will be managing on your behalf. Others, however, favor a flat hourly or yearly fee.
For full-service wealth management services, some financial advisors will only accept clients with a minimum account size of $500,000. Others will take on the task for at least $250,000 if they know they'll receive a percentage of the proceeds as their fee.
It will largely depend on the fee structure of the financial advisor or company you select. There is an option to pay one per plan if you're not going to pay a standard flat fee for their services (minus the investment management guidance).
The typical financial advisor services offered in Winnipeg are listed in the table below. The estimated rates listed next to each one are taken from the pricing plans of some of the businesses this article will review.
FINANCIAL ADVISOR SERVICE
ESTIMATED RATES
Hourly rate
$180 – $400 per hour flat rate
Full-service wealth management
From 1% of the $500,000 minimum account size
Robo advisor and online management
0.50% for $1,000 – $100,000 asset level
0.40% for less than $100,000 asset level
0.30% for less than $1 million asset level
Flat annual fee
$2,000 – $7,000 on retainer
Per-plan fee
$1,000 – $3,000
Please be aware that some financial advisors use a sliding scale, making the above rates subject to change. Fortunately, a lot of businesses are willing to accept special payment plans based on the client's budget.
Best Financial Advisor Firms in Winnipeg
It's time to decide where to find the best services now that you have an idea of their average costs. The top financial advisor companies in Winnipeg that we reviewed are listed below.
Warkentin Group Private Wealth Management
The Warkentin Group Private Wealth Management helps clients plan their finances in a way that is both comprehensive and personalized. This helps them get good results that help make their retirement dreams come true. They are truly independent, have no sales quotas, and always put their clients' interests first. Each plan is tailored specifically to each client, taking into account their unique financial picture and objectives. The professionals at Warkentin Group are dedicated to giving their clients the best personal service and attention possible. They make sure that their clients' financial plans are right for them at every stage of their lives. Doug Warkentin has a designation called "CFP," which stands for "Certified Financial Planner." Both the Financial Planners Standards Council and the Manitoba Securities Commission have certified and approved him. He pays close attention to the needs and priorities of his clients and meets their financial planning needs in a way that is just right for them. The team at Warkentin Group looks at financial planning as a whole, taking advantage of opportunities in tax planning, retirement planning, and estate planning. They've been in business for a long time, and Doug's advice has helped many generations of the same family. Their team is made with the client in mind. For example, some team members are in charge of the insurance administration, while others work on tax solutions. Clients can be assured that they are in good hands with the Warkentin Group Private Wealth Management.
Excellent management and financial planning services

Have been in business for many years

Many satisfied customers

5-Star Google Review ⭐⭐⭐⭐⭐
Customer Reviews
Let's take a look at what their clients have to say:
"My wife and I have been working with Doug Warkentin and his team for 4 years. They are thorough and very detailed in their approach to investment advice and planning. We meet with Doug about 3 times per year and he reaches out in between meetings if he wants to make changes to our plan/portfolio. I would happily refer Doug and his team to anyone that is looking for solid financial advice." – Lloyd Chipman
"Doug cares greatly about his clients and it shows. I have been with Doug for 20 years and he has guided me every step of the way toward securing a rock-solid financial future. His effectiveness and customer service have been nothing short of excellent. Doug and his team have taken great care of me and I can't say enough about them. As my retirement approaches, I have zero concerns about my future thanks to Doug." – Jeff Witwicki
Yourstyle Financial YourStyle Financial is a financial planning company based in Winnipeg that helps clients reach their goals and get their finances in order. With many years of experience in the financial planning industry, the team at YourStyle Financial will work closely with you to develop a personalized plan that is based on your priorities. The team at YourStyle Financial will help you every step of the way to achieve your short-term goals and, ultimately, your lifelong dreams.
Personalized service

Knowledgeable planners

Free consultations

Range of services

Long-standing company

5-Star Google Review ⭐⭐⭐⭐⭐
Customer Reviews
Let's take a look at what their clients have to say:
"YourStyle Financial is fantastic! Doug Buss advised me on adding Health Spending Accounts to my staff benefits package and the feedback from my team has been great. Doug's expertise in providing financial advising services to older adults has helped many plans for their future, including mine! Highly Recommend working with YourStyle Financial!" – Marnie Courage
"I would highly recommend Doug and the Yourstyle Financial Team for your personal financial needs. I really appreciated how Doug took the time to ask questions, listen, and review my personal, family, and business plans – I loved his human-centric approach when consulting me on a financial strategy that set me up for the lifestyle I want at today + 20-50 years from now!" – Kevin Burns
Cascade Financial Group Inc
Cascade Financial Group Inc. is a company that was formed with the intent of providing its clients with a way to pass on their wealth to themselves in the future, for retirement, to their children for education funding, and to their loved ones & business partners through wealth created through insurance when they are faced with a serious illness, disability, or death. The company also has another meaning, which is that it provides its clients with continuity and consistency in their financial planning.
Comprehensive investment planning

Strong track record of success

Experienced team of professionals

Excellent client service

5-Star Google Review ⭐⭐⭐⭐⭐
Customer Reviews
Let's take a look at what their clients have to say:
"We have been dealing with Cascade Financial for Just about a decade now. Tanner and Ralph have always provided excellent customer service to us as clients. If I ever needed to speak to them about a financial matter they made sure to get me in as soon as they could to go over whatever I needed. I highly recommend Cascade Financial to anyone." – RiverCity Hydroseeding
"I've had Tanner as my Financial Advisor for roughly 10 years now and he has been an absolute pro. He is very knowledgeable in all the areas of investing that I could ever have questions about. Whether it be life insurance, RRSPs, or TFSAs, he made everything simple and easy to understand. I would highly recommend Cascade Financial for any investing needs." – Brad Martens
Douglas Financial Ltd Douglas Financial is a full-service financial planning center that has been in business since 1982. The company helps people plan for retirement, taxes, and their estates, and it also sells and provides a range of financial products and services. Douglas Financial serves over 2,000 clients in seven provinces.
They offer a variety of services and products to their clients, which makes them a one-stop shop for all your financial needs

Douglas Financial Ltd has a team of highly qualified and experienced professionals who are committed to providing excellent service to their clients

The company is licensed and insured, which gives you added peace of mind knowing that your money is safe

Douglas Financial Ltd offers personal service which makes you feel like you're their only client

They have an easy online application process, which makes it convenient for you to apply for financing whenever and wherever you want

5-Star Google Review ⭐⭐⭐⭐⭐
Customer Reviews
Let's take a look at what their clients have to say:
"The team at Douglas Financial Ltd. provides timely and accurate bookkeeping, tax preparation, and consulting services to businesses and individuals in the Winnipeg area. They are a reliable source of support for small business owners who need assistance staying on top of their finances."
"I have used Douglas Financial Ltd for several years now and have always been happy with the service I receive. The staff is knowledgeable and helpful, and they always work to ensure that I get the most out of my accounting services. I would definitely recommend them to anyone looking for an accountant in Winnipeg."
Nelson Financial Consultants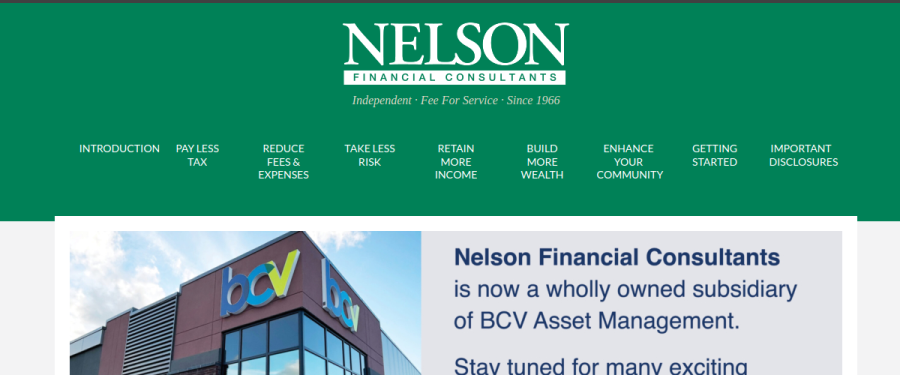 Nelson Financial Consultants is a trading name representing the overall financial services activities of Doug Nelson and his team. Nelson Financial Consultants does not employ any individuals or provide any services. Financial planning services are provided through Nelson Financial Planning Corp. (NFPC). Portfolio management services are provided through Nelson Portfolio Management Corp. (NPMC). Insurance and annuity products are provided through Nelson Insurance Services Corp. (NISC)
Excellent customer service

Knowledgeable staff

Affordable rates

Personalized advice

5-Star Google Review ⭐⭐⭐⭐⭐
Customer Reviews
Let's take a look at what their clients have to say:
"Nelson Financial Consultants is a great company that can help you with your financial planning. They have a lot of experience and offer a variety of services to suit your needs. I would highly recommend them!"
"NFC was amazing in helping me get my finances on track! I'd recommend them to anyone looking for sound advice and top-notch service."
FAQs About Financial Advisor Services in Winnipeg
How do I find a financial advisor in Winnipeg?
You can find a financial advisor in Winnipeg by looking online, through referrals, or by contacting your local bank or credit union.
What should I look for when choosing a financial advisor in Winnipeg?
When looking for a financial advisor in Winnipeg, you should think about their experience, qualifications, areas of expertise, and fees. You should also ask the advisor about their investment philosophy and how they plan to grow your portfolio.
Is it better to work with a financial advisor in Winnipeg or manage my finances on my own?
There is no one-size-fits-all answer to this question – it depends on your personal circumstances. However, working with a financial advisor can be helpful.
---
We trust that reading about Winnipeg's leading financial advisory firms has given you a solid idea of where to find the best support and services.
If you have any suggestions for additional companies to include in our reviews, please let us know. We'll check them out as soon as we can if you just send us a message.