Are you organizing a sizable public festival or some other unique event? To make it safe and crime-free, you'll probably need the help of Winnipeg's top security companies.
Fortunately, a wide range of services is offered to satisfy the requirements of single or multiple clients for everything from fundamental to specialized security.
To give you an idea of how much each service costs, we will first go over the fees and rates for each one.
What Do Security Companies in Winnipeg Charge?
Although the pricing policies of individual security firms will vary, we can still base our projections on current national averages. These hourly rates are displayed in the table below for your information.
There are different levels of security, which might reveal the presence or absence of guns or handguns (plus specialized training). In Winnipeg, the majority of security companies demand that you sign an annual contract with them in order to use their services.
You also have the option of selecting instantaneous emergency security services. Its nature necessitates a marginally higher hourly rate (averaging $40).
The majority of security services demand an annual contract, as opposed to highly skilled services like private investigations, which demand a retainer plus additional fees. Close protection security and special events typically require a seven-day notice to ensure everything goes as planned.
SECURITY SERVICE
ESTIMATED COST
Basic security guard service
$23 per hour (with an annual contract)
Advanced security guard service
$27 per hour (with an annual contract)
Concierge security service
$24 per hour (with an annual contract)
Special event security service
$29 per hour (with at least 7-day notice)
Close protection service
$70 per hour (with at least 7-day notice)
Emergency security guard service
$40 per hour (on less than 24-hour notice)
Private investigation service
$90 per hour (with retainer; exclusive of expenses)
Senior investigator $150 per hour (with retainer; exclusive of expenses)
High-risk location tactical guard service
$50 per hour (with an annual contract)
Please be aware that additional factors, such as the number of attendees, the nature of the event, risky locations, and other circumstances, may have an impact on the final bill in addition to the distinct pricing plans from each company.
Best Security Companies in Winnipeg
Now that you have a better understanding of the prices for security services, let's take a closer look at the top security companies in Winnipeg.
DSI Security Systems
DSI Security Systems is a trusted provider of security alarm systems for both businesses and homes. They stay on the cutting edge of technology to meet the needs of their clients, which includes having one of the most advanced central monitoring stations in the industry. They also offer creative design, system integration, and control of your home or business that works perfectly. In addition to security solutions, DSI provides outstanding customer care. They have been providing excellent service to customers all over North America for more than 25 years. This includes residential, commercial, government and national defense customers. Their commitment to their client's safety and satisfaction is evident in everything they do.
DSI Security Systems has a long history of providing security services to businesses and residents in the area

The company is licensed and insured

DSI Security Systems offers a wide range of security services, from video surveillance to alarm monitoring
The company has been known to be unreliable in the past, often failing to show up for scheduled appointments or not following through on their commitments

The customer service department at DSI Security Systems is often unhelpful and unresponsive
Customer Reviews
Let's take a look at what their clients have to say:
"Have been a customer for over 10 years and never had a bad experience with the company. Recently I replaced my older system, when I called to inquire about my options, Mark was absolutely amazing and took the time to explain everything I would need. The installer who came out, Stacey, helped me step by step through how to work the new system, along with answering all my questions and concerns without hesitation. Stacey also repositioned things to better protect my home than what was originally in place and was very attentive to the needs of my home security. He doubled check all his work and left no trace of him ever being there. I highly recommend this company for any of your security needs." – Darlene Bellerose
"We recently had Brian and Jerry from DSI install a commercial camera and alarm monitoring system and we couldn't be happier with their service and work. They busted their butts to get it done and we're very professional and friendly throughout the entire process. Rod was great at meeting us on such short notice and providing a quote as well. I have called their office now multiple times and their office staff seem so friendly and easy to deal with. I 100% would recommend it! Thanks, guys!" – Chantel Walls
JamRock Security Winnipeg JamRock Security is a trusted provider and Alarm.com authorized dealer who provides professional security systems, surveillance cameras, CCTV, burglar alarm installations, home automation, and other home and commercial security solutions across Manitoba, including Brandon, Neepawa, Beausejour, Lockport, Selkirk, Steinbach, Carmen, Grand Beach, Portage La Prairie, The Pas, Flin Flon, and Winnipeg. For over 140 years, ADT has been protecting Canadians from coast to coast as security professionals. We are committed to ensuring that when an emergency situation occurs, we can respond quickly and with all the necessary information to ensure that you are protected.
Great customer service

Professional and knowledgeable staff

Affordable rates
Customer Reviews
Let's take a look at what their clients have to say:
"JamRock is hands down the best alarm company to go with. Highly recommended. The knowledge and experience show in everything they do. They truly go over and above with their clients. Customer service is amazing and helpful. They answered all our questions and customized our system EXACTLY how we wanted it with no install issues. All around the amazing company." – JT
"Seriously can't recommend Jamrock enough! My only complaint would be that the walk-through took longer than expected but only because Kathy was SO thorough in making sure I was set up properly and was familiar with my system. Both she and Don were super friendly and gave us an unbeatable price. Highly, HIGHLY recommend if you're in the market for a new alarm/security system." – Gavin Barrett
SK Security Services
SK Security is a Winnipeg security company, with over 15 years of experience in providing safety and quality service. They have steadily grown because they offer unwavering management support, quick and active problem-solving, and a high level of service that aims to go above and beyond every client's expectations.
SK Security offers the most outstanding security guard services. They understand your needs and value your investments, along with the safety of your patrons and employees. Their guards are well-trained individuals who perform serious jobs with the utmost professionalism. SK Security values the safety and security of each and every one of their clients.
SK Security Services is a well-established company that has been in business for long years

They offer a wide range of security services, from event security to loss prevention

Their employees are all highly trained and certified
There have been some complaints about the customer service at SK Security Services
Customer Reviews
Let's take a look at what their clients have to say:
"I am very happy to be a part of the SK Security Team. I have been working with them for two years now. And I must say that it's one of the best companies. The environment and the work ethic are perfect. The management and the owner are very friendly, helpful, and supportive. The staff is very professional. I strongly recommend this workplace to everyone." – NIDHI MAKKAR
"Great management, very friendly, and responds back to you very quick. I have been working for almost 2 years and have no problems. I've worked part-time and full-time, night shifts and day shifts I received same the great service. Management and owner are understanding and helpful." – Chanaka Wijewardena
Oakley Alarms Ltd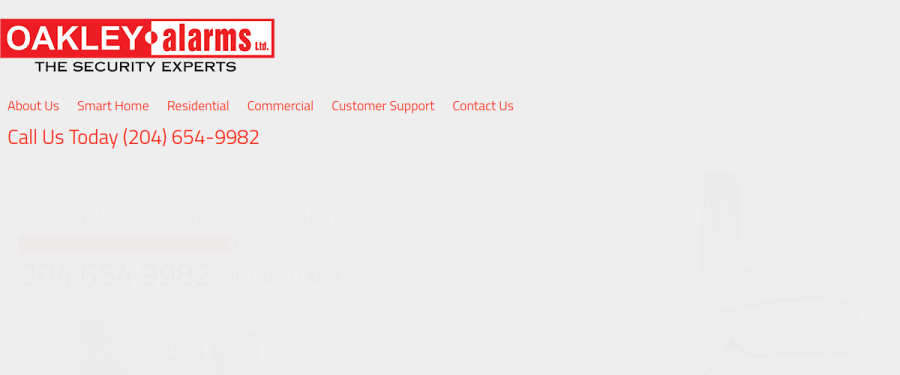 Oakley Alarms is a full-home automation company that has been in business since 1997. They offer alarm systems, temperature control, and many other services, all of which are watched over 24/7. Oakley Alarms was started by two brothers who sold good security alarms to homes and businesses. Since then, the company has grown into a group of experts.
Oakley Alarms works hard to give their customers the latest technology and the best service possible. They have a commitment to growth and will continue to provide excellent service for years to come.
Local company with a good reputation in the community

Offers a variety of security services to choose from

Professional and courteous staff

Good value for your money

Wireless systems can be installed quickly and easily

24/7 monitoring service available
Customer Reviews
Let's take a look at what their clients have to say:
"Wonderful, simple, easy to learn the system. I am 72 years old and not a "techie" so was nervous about learning the monitor etc. Great experience dealing with Oakley Alarms. Thank you for keeping me safe." – Wendy Mclay
"Awesome service and a great bunch to work with. Very satisfied with the system they sold me and their price. Had a couple of small issues over the years and they are right there to help solve the issue. Highly recommended" – Hank Kervel
Boss Security
| | |
| --- | --- |
| Website | https://bosssecurity.ca/ |
| Address | 1477 Wellington Ave, Winnipeg, MB R3E 0K4, Canada |
| Phone | +1 204-219-8099 |
| Email | info@bosssecurity.ca / billing@bosssecurity.ca |
| Category | Security guard service |
Boss Security is a security guard company in Manitoba that works in Winnipeg and Brandon. They provide on-site security guards and mobile patrols for both business and residential properties. Boss Security has made it easy to hire security guards, and all of their security guards must be fully licensed by the province after passing a provincial exam and completing certified training. Boss Security is one of the most reliable security guard companies in Winnipeg, and they offer a wide range of security guard services.
Excellent security guard service

Highly experienced and qualified staff

Affordable rates
Customer Reviews
Let's take a look at what their clients have to say:
"Boss security is one of the best security services providers in Manitoba. I have been working with them for More than 1 year and never had issues or problems with my schedule or in any matter." – Gurtej Buttar
"Hired Boss Security for my event. Very professionally dressed security guards. Very nice management. Always go above and beyond. Highly recommended!!" – Samantha Graham
FAQs About Security Companies in Winnipeg
What are the different types of security companies in Winnipeg?
There are a few different types of security companies in Winnipeg. The most common are those that provide guard services, but there are also companies that offer security consulting, systems installation and monitoring, and event security.
How do I know if a security company is reputable?
When choosing a security company, it's important to consider the company's track record and experience. You should also ask about the quality of the training for their employees and whether they have liability insurance. Price does affect the quality of security services to some extent, but it's more important to focus on the company's overall value.
What should I look for when choosing a security company?
In a typical security contract, guard services, access control, video surveillance, and alarm monitoring are all usually included.
Does price affect the quality of security services?
Price does not affect the quality of security services.
---
Hope your upcoming event will feel safer and more secure now that you know everything there is to know about Winnipeg's top security companies.
If you have any additional suggestions for reputable security companies, please send us a message.