Sometimes, cleaning dirty windows calls for more than Windex and a paper towel. Fortunately, you can find everything you need on this list of Winnipeg's best window-cleaning businesses!
Keep reading until the end to find out what to think about before choosing a service, how much they usually cost, and answers to some of the most common questions.
What to Consider When Choosing a Window Cleaning Company?
Let's start off with the basics:
Protection for Workers
Whenever possible, a window cleaning service should offer insurance in case of accidents that cause property damage or personal injury. If they don't offer coverage for those occurrences, you would be better off spending your money elsewhere.
2. Further services
Ask if they also clean the blinds and move furniture in addition to the windows. The majority of window cleaning companies additionally offer services like gutter cleaning and pressurized washing.
Most likely, they provide housekeeping packages that keep your home spotless and are significantly less expensive overall.
3. Suggestions
A trustworthy window cleaning company will always have referrals! If they've been in business for a while, they should have plenty of supportive online reviews.
By speaking with store employees and other homeowners who have used the company's services, you can learn what to expect in terms of service quality and attitude.
4. Knowledge
Have they been working there for a year? Or 5? Or 10?
Naturally, if you want to make sure you get what you pay for, you should work with companies with more experience.
Quality service is indescribably valuable, even though less expensive businesses may be friendlier to your wallet.
How much do window cleaning services cost in Winnipeg?
| | |
| --- | --- |
| Service | Average cost |
| Cleaning per pane (Residential) | $4 – $8 |
| Cleaning per window (Residential) | $5 – $10 |
| Cleaning per pane (Commercial) | $5 – $10 |
| Cleaning per window (Commercial) | $6 – $14 |
Best Window Cleaning Services in Winnipeg
Let's get to the fun stuff now that the basics are taken care of! Below is a list of the top service providers we could locate:
Ken's Window Washing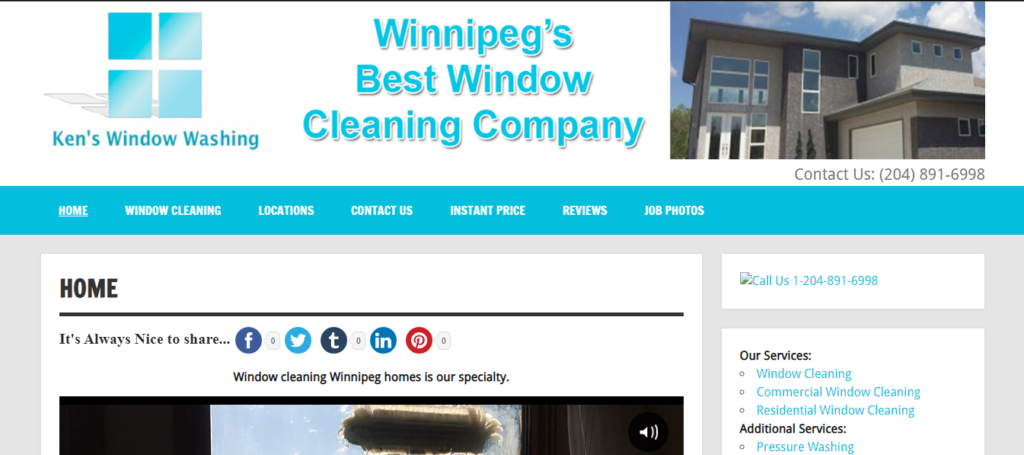 Window cleaning is not as simple as one may think. In fact, it can be a difficult and challenging task, particularly if the office is located on the top floor of a building. This makes it more difficult to clean all areas of the windows. Moreover, applying incorrect window washing products or techniques, or using the wrong fabric can only lead to unsatisfactory results. So, to avoid any frustrations in cleaning your window, it is a practical solution to rely on the help of specialists in this field. By choosing us for your concerns, we will make sure that your windows remain streak- and stain-free for a longer period – better than what average cleaning can offer. Our team of highly experienced and skilled professionals utilizes specialized training and high-quality equipment to provide you with superior glass cleaning service. We make it our commitment to provide you with excellent results worth your money.
Proven Track Record

Quality Workmanship

Friendly and Professional staff
Customer Reviews
Let's take a look at what their clients have to say:
"We used Ken's Window Washing to wash the windows at our home. They did an amazing job for a really reasonable price. The team that came over was very courteous and professional. Very pleased with the overall service and attentiveness. Oh, and the windows looked amazing! It saved us from going up a ladder. Thank you!" – George Hakim
"I have used Ken's Window Washing for many years. Amy is amazing to deal with. She responds so quickly and is a complete professional. The staff is efficient, timely, and respectful. They do an amazing job for a real deal! Book them." – Shauna and Al Briscoe
Picture Perfect Window Cleaning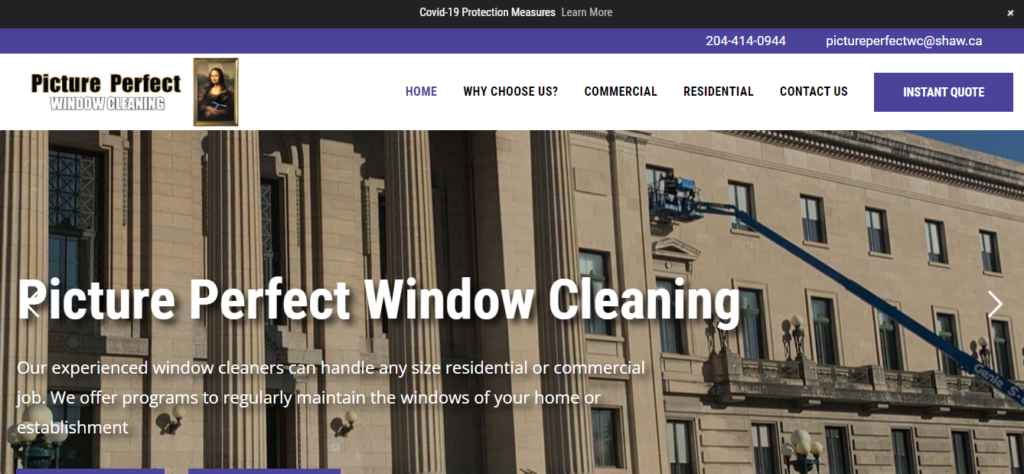 Picture Perfect Window Cleaning is a window washing company that provides quality services with a focus on customer service. They have all aspects of their business in place to ensure success and customer satisfaction, from hiring practices to quality control. They are also a COR-certified company and have a customized comprehensive safety training program. Their employees are well trained and use environmentally friendly products. They go the extra mile to ensure no damage is done to any home or business and are fully insured. Let Picture Perfect Window Cleaning enhance the appearance of your home or business today.
They offer a 100% satisfaction guarantee on all of their work

This company has a lot of experience and seems to be very reputable

They offer a wide range of window cleaning services
The price point is a little high
Customer Reviews
Let's take a look at what their clients have to say:
"Have used Picture Perfect a handful of times now. They are quick and efficient and the price is reasonable. This last time they seemed to forget to wipe down my sills and frames which was a nice touch in the past so I had to do that myself. Otherwise, they respond quickly to emails and rectified a previous issue promptly!" – D Kehler
"Excellent service and very professional team. We were here on time and were very efficient with setting up and cleaning up. So glad that I found this company. From the first email contact to the crew leaving everything was Perfect! Will be using again!" – Penny Scott-Mazur
Rudy's Window Cleaning Pros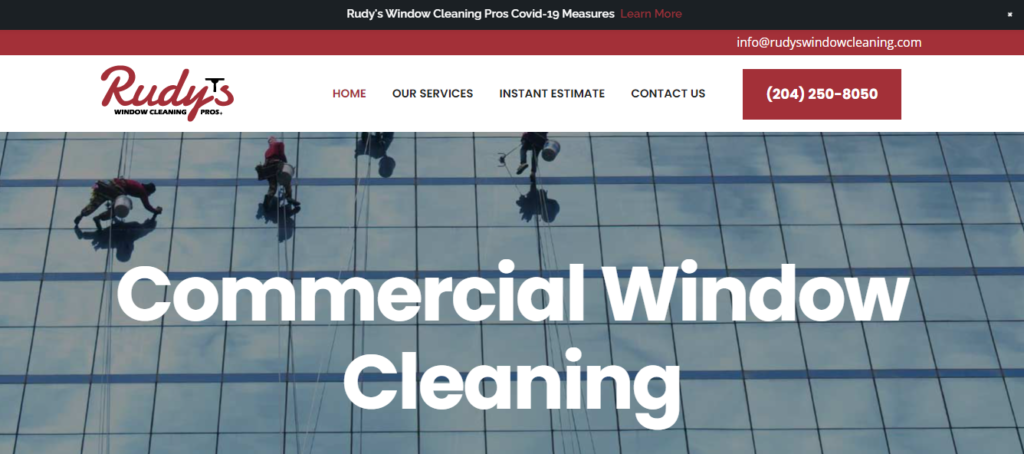 Window cleaning is a meticulous and often challenging task. It takes experience and expertise to get the job done right, and that's where Rudy's Window Cleaning Pros come in. We are dedicated to providing the highest quality window cleaning services to our clients, using only the best equipment and techniques. Our success begins with our team of highly skilled and trained employees, who are constantly advancing their knowledge and skills. We are proud to be able to offer our clients the best window cleaning service available, backed by our commitment to customer satisfaction.
Rudy's Window Cleaning Pros is a locally owned and operated company

They offer quality services at competitive price

All of their employees are fully insured and bonded

They are committed to providing exceptional customer service
Customer Reviews
Let's take a look at what their clients have to say:
"Wow! My windows are gleaming and my entire house feels cleaner (even though it isn't…). Rudy is professional, friendly, and efficient. He did in a couple of hours what would have taken me two days to clean, and at a great price. Thank you, Rudy! We will definitely have you back." – Dawn Thompson
"As usual, Rudy's Window Cleaning Pros did a great job. He arrived when promised, did the job quickly, and the results were outstanding! Just what we've come to expect from this company. I would recommend him to anyone." – Peter Young
Gorilla Property Services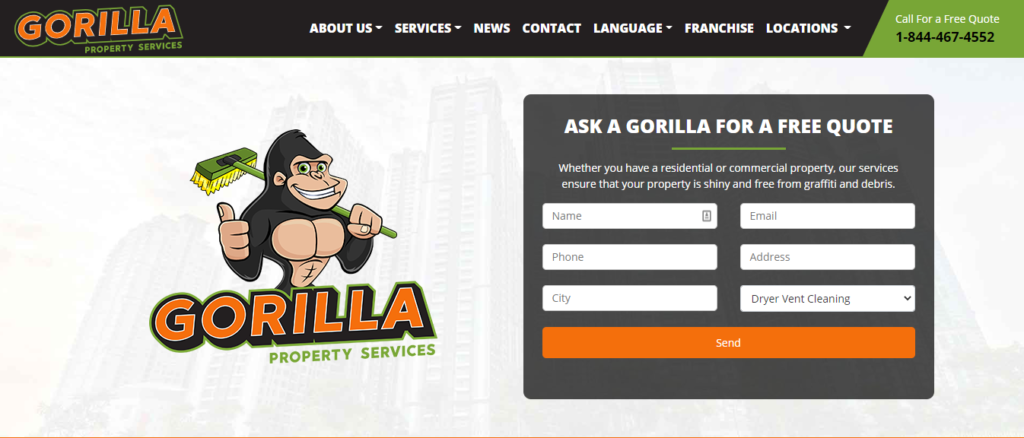 Gorilla Property Services was developed with the intent to fill a void. There seemed to be a lot of companies like ours, but nobody had that extra little "Spark". Some claimed to be the fastest pressure washers, some claimed to be the best at graffiti removal and a good chunk of them claimed to be the "cheapest" price in town. Our system is simple. When one of the "Monkey Trucks" (this is what most of the kids call our vehicles when they see them!) pulls up for service, the Gorilla technician will perform the highest level of service possible.
All of our technicians are uniformed, friendly, clean cut and eager to please. As the owner of Gorilla Property Services, I personally have 20 years of experience in the property maintenance industry. With experience comes knowledge. Knowing what products work and when to use them, knowing how to apply them in a fashion that suits the environment you are in, and many more "tricks of the trade" are features that must be earned through time with trial and error over the years. Not every technician makes the cut either. Hand-picking our technicians from a pool of applicants is also an advantage Gorilla Property Services has over our competition. I'll give it to you straight-our people want to work here! It's that simple. Our Gorilla techs are provided a fun and clean atmosphere to work in, they are provided with the best training and equipment available, and they are part of a team-a strong team.
Reliable window cleaning service

Great customer service

Fair prices
Customer Reviews
Let's take a look at what their clients have to say:
"Gordon is an absolutely wonderful person to deal with! The windows are cleaned beautifully with little disruption to the house indoors. They sparkle indoors and out as well! He is very courteous, a great communicator, and just all-around super pleasant to deal with. His prices are very good also. I can't recommend this company highly enough! We are so delighted every time we have Gorilla Property Services attend to our place!" – Nancy Finlayson
"Gord and Devin were amazing! They arrived right on time, knew exactly what they needed to do, and had all of the correct equipment to clear out our gutters and downspouts quickly and safely. Did everything they promised and more. Very friendly and willing to answer questions and provided photos of the problem corner with long screws in the downspout so now I know exactly what needs to be done to fix it. I will recommend Gorilla Property Services to family and friends! Thanks for a super job." – Jack
Lambs Window Cleaning
Window cleaning is an important aspect of home and business upkeep. A professional window cleaning service can help to remove streaks, smudges, and dirt from windows, making them look clean and inviting. Not only does a clean window look nicer, but it also allows more light to enter the space, making it feel brighter and more open.
Ideally, windows should be cleaned on a regular basis – at least once every six months. However, even if it's been a while since your windows were last cleaned, a professional service can often get them looking good as new again. So if you're in need of a good window cleaning, be sure to call Lambs Window Cleaning!
Excellent customer service

Very affordable rates

Quick, efficient, and thorough cleaning
Customer Reviews
Let's take a look at what their clients have to say:
"We have employed Lamb's Window Cleaning for snow removal at my mother's house for several years now. My siblings and I live out of town, so it is important to us to receive good service and Lamb's has provided that good service. Additionally Aaron Lamb, the owner, has gone out of his way to assist my mother with other non-snow removal issues at no cost to us…he is a great person and operates a great business!" – Julia Nestor
"I received amazing service from Lamb's yesterday. From the moment Aaron took my call on the first ring and fit me into his schedule according to my needs, I had a good feeling about this company. Aaron stayed in touch – re-scheduling due to rain, then when the crew was a bit behind due to the backlog of jobs catching up after rain. Both crew members were professional, personable, knowledgeable and experienced. They worked incredibly fast and were more picky about the results than me! I was so impressed, I wanted to write this, my first Google Plus review." – Lise Belanger
FAQs About Window Cleaning in Winnipeg
What are the benefits of window cleaning?
Window cleaning has a variety of benefits, including improving air quality, increasing light intake, and enhancing curb appeal.
How often should windows be cleaned?
Window should be cleaned at least twice a year, although more frequent cleaning may be necessary depending on the environment.
What's the best way to clean windows?
The best way to clean windows is with a mixture of vinegar and water.
Can you clean windows from the inside?
Windows can also be cleaned from the inside by using a squeegee or ladder.
Do professionals use a specific type of window cleaner?
Professionals often use a specific type of window cleaner, such as ammonia or alcohol-based cleaners.
---
This completes our ranking of the best window cleaners in Winnipeg. We really do hope this was helpful.
Have we missed a company you suggest? Tell us everything, we'd love to hear about it!